Very many moons ago,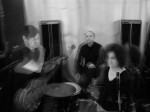 I finished listening the SXSW 2013 track list (as graciously provided by The Unofficial SXSW torrent site. Later today (or week), I will trans-scribe the full selection of reasonable tracks according to my ears. As is traditional, here are the very best five tracks of 2013:
"Sweet tooth" – Kids on a crime spree. Short and heavily inspired by the Spector-sound (vimeo).
"Mosaic" – Fear of Men. Also short, but poppish UK sound (vimeo as well).
"Switzerland" – The Last Bison. Folkish, US sound. Good, but I hesitate to recommend them now that they've gone commercial.
"You were never there" – Diego Garcia. Easy listening folk-pop? (Youtube).
"Dreamers" – The Blue Van. Danish band with original sound.
Runner ups: "Ausland" – Camera, "Water against the rocks" – Faye and "Nightmare #2" – Bergara Quartet.