I have been using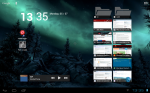 my Android-based tablet (review of the Iconia Tab, other Android-related topical postings) now for over a year and I thought this was the perfect opportunity to do a recap and go over that device again.
First of all, just a couple of months, I upgraded the tablet to the latest Android version ("Ice Cream Sandwich", or ICS from now on): I personally think that Google sort of redeemed itself on several Android UI design choices. I generally didn't care about Acer's HoneyComb OEM changes and thought the choice of font was, 'awkward'. With ICS, Google sort of forced manufacturers of Android tablets to take over some of the new Android UI elements.
Secondly, the Android App market has literally exploded: while the two App market places obviously still show that Apple still tops Google, you can safely say that most iOS apps are also available in Android flavours. And if not, surely there are Android alternatives available.
On the development side: after a year of Android use, I still believe that tablets will replace netbooks. I wouldn't be surprised if there's no market for netbooks by 2013. Heck, I even find the Intel-based Ultrabooks sort of a dubious phenomenon, mainly because I'm not convinced that the current hardware specs (mobile slimmed down versions of i5s and i7s) are properly targeting these devices' usage. A tablet for occasional browsing and communication? Sure. An Ultrabook for the very same? Not so much.
Which brings me back to my tablet's daily usage: indeed I use it more for browsing, e-mailing, reading books and a variety of multi-media activities (listening music and or watching video). This is actually exactly what I used it for when I bought the tablet last year. As I mentioned in previous postings, the tablet has slowly replaced my main PCs (Linux/Windows) as the go-to device. To be honest, I'm still sort of surprised how the A500 has become (literally) the information center piece. This has some drawbacks and they are mostly, you guessed it, on the technical front. I will go into that in a later posting.