H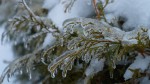 oly moly, I've not updated since last year? Preposterous! Might just as well give it ago:
The worst part of 2013's last days was the rainstorm annex ice storm that hit parts of Ontario and NB: In our region, I recall people being out of power for over a week while temperatures dipped down to the -20s (Celsius). I tend to frequently bring up the power restoring issues when Juan hit Truro back in 2003: however, having no power nor backup heat while it's -20 degrees out? I'd pick out Juan as my preferred 'out-of-power' event. Technically, I believe this Winter is going to be one of the worst I've seen here: Fluctuating temperatures from + 4 to -20s and way too much snow.
I don't think I've mentioned it here, but since early September we decided to bring back home a puppy. Welcome to Pepper, our overlord border collie/australian something mix. Now that's she's also been legally fixed ('spayed'), it's time to get her agility training (SLYT) going.
And last but not least, forthcoming coding projects this year include a 'diff tool', a 'zip tool' and hopefully, a wrapped-up 'SQL tool'. And some of that.