I've been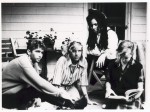 a long-time listener of the Throwing Muses music: I was actually a Throwing Muses fan before I started listening Sonic Youth (previously on xsamplex). However, I'm not going to write about the hows or whats: the reason for this entry in my 'Past The Bridge' series is that a couple of weeks ago I found out that it was the 25th anniversary of the 'San Ysidro McDonald's massacre' (Wikipedia, personal thoughts of the only reporter at the scene). Obviously, the aftereffects of the massacre (one of the first live covered murder/massacres on TV and radio) had a huge impact on American culture and politics, particularly because of the apparent random killings (the youngest victim was an 8 month baby, the oldest was a 74 year old man).
The Muses' song "Hate My Way" (30+ excerpt) references that event and (literally) captures the words broadcast by the news organizations (from that earlier mentioned/linked to CNN article):
"I looked down and could see that there was people ducking for cover, and there was a fire truck there with everybody behind it," she recalled. She saw two boys lying on the ground, tangled in their bicycles after being shot by Huberty, and people hiding behind the low walls of the restaurant's playground.
The song itself isn't specifically about the killings but about being a teenager and the insecurities that come when you're that age: Kristin Hersh at one time explained that the song was written when she was 18 or so, and that at that time 'like all people that age, she probably took things too serious, or, even, not serious at all'.
Personally, what makes this song so compelling to me is its chorus-less musical narrative: from Dave Narcizo's signature intricate rythmic section to Hersh's 'out of harmony' singing (obligatory Youtube video, sound out of synch though). This was the Throwing Muses at their best.