What is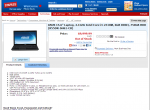 funnier than 'America's Funniest Home Video Show'? Why, items that are wrongly priced on on-line shopping sites! I mean, a 10,000 dollar laptop that features a second generation i3 processor, a tame Radeon processor and yes, 6 GB of RAM. Surely, that RAM is solid gold. No?
A month or so ago, I finished watching all seasons of the show 'A Game of Thrones' (HBO Canada), an award-winning TV series based on George R. R. Martin's Fantasy books 'Songs of fire and ice'. I was advised it was pretty good, and sure, it was pretty good. The show is known as the most downloaded show on the Internet as HBO had refused to sell the show on DVD (or something to that matter: I can't remember the details).
I had already started on George R. R. Martin's books on July the 6th and as you may have noticed from the books-library, I finished the current known last entry of the series, "A dance of dragons", just a week or so ago. All the titles in the series are long and, while at times slow to develop, fairly good reads. The major question is that Martin still has two titles to write and looking at the pace of the HBO series, I fear that the show is catching up with the books before Martin can officially finish them.