S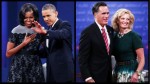 o, it looks like Obama indeed won the presidency, much to the world's delight or fright, depending on your political views.
As posted earlier, I only slightly followed the elections. At 'Election Night', I turned off the TV the moment I saw that Obama was ahead in battleground state Ohio. It generally looks like that at the end, Nate Silver's prediction ("Obama wins without any doubt") was right on the money. If you believe the press, the election result came as a surprise for a many Republicans and even the Romneys. I think the problem was that Republicans were not looking at the numbers and the facts, which is highlighted in that now famous Rove/Fox News video where Fox News called the presidency for Obama and Rove (apparently) was in self-denial.
Did the best candidate win? It all depends on your definition of 'best'. I'm certain that in the coming years, Obama will become a target for everything between right and left. In the mean time, it's going to be an interesting 4 years: To win the next presidency, the Republicans have to move to the center. If they can't appeal beyond their current election base, they'll be toast for years to come. On the other side of the spectrum: At the end of the Obama's presidency, the Democrats will have to figure out if Obama has become 'persona non-grata' or if they'd need his help.