I finally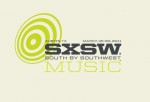 managed to add some notes to the 75 or so personally selected songs of SXSW 2011 (out of 1200 or so: earlier). I've not ranked anything in this list as ranking is so subjective: I think together all the songs form a solid and enjoyable list of songs. The songs that sprung out I marked as 'recommended': 'recommended' as in 'this band has a future' or 'the song is just plain simple subjectively good'. Personal side-notes were written up to be as brief as possible, more or less to provide a mental anchor to distinguish the artists and/or songs
I'm fairly happy with the fact that even some dance/hiphop songs made it to this list: artists like K.Flay and Ancient Astronauts obviously surprised me because of either a smart delivery of lyrics or a highly inventive use of samples.
What else? Most of the bands listed below are independent: to support them, please find their websites or buy their songs from their preferred digital music distribution system.
Over time I hope to be able to add proper linkage to the artist's websites. In the mean time, enjoy:
Band/Artist
Song
Status
Comment
Adam Arcuragi & The Lupine Chorale Society
She comes to me
Catchy and easy listening Americana/folk with full supporting
band and choir
Agent Ribbons
I'm alright
Everytime I hear this song I think of Kill Bill. At times
monotonous, but with a fairly well executed end
Aislyn
Nail biter
recommended
Electro pop. While not featuring the best voice I've heard, the
chorus is oh-so innocent and an outtro that is unrelated to the
song
Akina Adderley & The Vintage Playboys
Get Yourself Free
Soul, luscious soul. Predictable female lead vocals but
excellent accompanying music with traditional musical break.
Allie Moss
Late Bloomer
recommended
Folkish song with excellent up-tempo percussion, with unusual
musical arrangement during intro. Great control of voice.
Alvarez Kings
Patience is strength
recommended
Typical British pop song with catchy melody and intro
AM & Shawn Lee
Dark into light
Synthpop. Why is this in my list? It's fairly boring.
Analog Rebellion
A Real clever trick for a bear
Synthpop. Catchy intro and chorus. Not for all, but reminds of
Vega's synth period
Ancient Astronauts
Worldwide
Instrumental mix of hiphop, synth and untraditional sampling.
Features KRS-one sample
The Apache Relay
Home is not places
U2-like song with well executed outtro
Aphasia
Metal Tank
Instrumental/guitar rock
April Smith & the great picture show
Colors
Folkish cute. Maybe more western. Maybe Swing. Or maybe all of
it.
ARMS
heat and hot water
80s sound-a-like, starts slow with excellent tempo change
Balmorhea
Clamor
Instrumental; good execution and production
Bear Driver
Wolves
recommended
British pop band with potential: catchy backup vocals and
melody.
Beats Antique
Junktion
Instrumental, featuring hip-hop, violins and a genuine belly
dancer, apparently. Fun, but personally not sure of bands
future.
Bhi Bhiman
Guttersnipe
recommended
Soul, with hints of US and Sri Lanka. Excellent stuff.
Botany
Waterparker
recommended
Dance? Yes, sure as long as it has got a fun chorus and
sampling.
Braids
Lemonade
recommended
Electro rock/pop/dance from Montreal, Canada: musically
sound.
Brandi Emma
Let it go
Folk: melodious but predictable.
Brooke Fraser
Something in the water
Folk from down-under: crazy fun intro to chorus.
Chappo
Come home
Rock/Psych, with hints of 80s pop music. Uptempo.
Chiha
I was in love
Tunesian/German traditional music. Obviously it rocks. I think.
Hey, it's catchy…
Christine Fellows
Lets get started
Folkish, with layered music. Enjoyable.
Clock Opera
Once and for all
recommended
Excellent and best of SXSW 2011: falsetto and that. Plus: based
on popular play
Consortium Musicum
Mechanical Mammoth
recommended
Hahahaha. Reminds strongly of Antheil.
Cults
Go Outside
Cute song but gets monotonous. Good, but strongly backed by
Sony Entertainment
Darren Hanlon
All these things
Folk with whimsical lyrics
David Berkeley
George Square
Well produced, lyrical and melodious
Delicate Steve
The ballad of Speck and Pebble
Excellent produced instrumental by one man band Steve. Or
something.
Dizzy Eyes
Lets break up the band
recommended
Fun Punk/Rock from Vancouver: slightly reminding of the
Cure
DJ Chicken George
Overthrowed
Funk/Soul with a touch of hip-hop
The Eastern Sea
The Menu
Catchy marriage of folk and traditional music
Edwyn Collins
Losing sleep
recommended
Simple rock no hooks no nothing; knocks the ball out of the
park
Eli Paperboy Reed
Come and get it
Soul, by white guy with an excellent voice but… yeah.
Emanuel and The Fear
The Rain becomes the clouds
recommended
Excellent music/composition and lyrics
Emilie Clepper
Wearing you
Folk, with strangely attractive voice and good arrangement
Estados Alterados
Contenme
Uptempo Spanish electronic rock from Colombia
Experimental Aircraft
Paintings in the attic
Experimental guitar rock (instrumental) that turns into a
bittersweet song
Fared Shafinury & Tehranosaurus
Matarsak
recommended
Iranian music intermixed with western music.
Feathers
Water Music Treadmill
Instrumental guitar rock, monotonous but easy listening if
you're in that mood
For a Minor reflection
Flod
Instrumental popular, changes tempo over time
Friska Viljor
If I Die Now
Scandinavian rock, with hallmark Swedish sound
A great big pile of leaves
We don't need our heads
Pop Rock with catchy chorus
Great Lake Swimmers
Pulling on a line
Rock, tangy and slow
Gustavo Galindo
Banco de Papel
Spanish tear jerker but good
Ha Ha Tonka
Usual Suspects
recommended
Excellent song with good flow that is hard to categorize
Hotels and Highways
Train whistle
Poppish Folk, slightly reminds of early works of the
Stones
Houses
Soak it up
recommended
Electropop, excellent
In-Flight Safety
Model Holmes
recommended
Rock, typical, predictable but good voicing and melody.
Ivan and Alyosha
Fathers be kind
Slow rock excellent with Spanish sounding guitar accents
Joey Cape
A song for the missing
Folk, melodious and excellent inversion
Jonathan Edwards
Sunshine
Uptempo folk, no frills, no nothing
K's Choice
Come Live the Life
recommended
Surprisingly, excellent song, as I expected the band to have
burnt out
K.Flay
So Fast, So Maybe
recommended
White, Female, HipHop? You betcha!
Kina Grannis
Valentine
recommended
You know, hats off for combining excellent music with
predictable lyrics
Lady Lamb the Beekeeper
Penny Licks
Pop music with plenty of variation
Laura Jansen
Single Girls
Folk/Popular. Boring lyrics, but interesting combination of
vocals and piano
Lava Children
The Green word
recommended
I have no words for this.. atonal, not in tune excellent
mastery of vocals and instruments
Letting up despite great faults
In steps
Syntpop: Predictable, uptempo, slightly reminding of 80s
electro pop sound
Lex Land
Havana
recommended
Excellent voice and lyrics, accompanied by synth
Little Scream
Heron and the fox
Folk, with strange hooks
Little Tybee
Design
recommended
Jazzy, folkish sound: excellent all round music with a pretty
chorus
Lucy Schwartz
My Darling
recommended
Professional sound, excellent voice and catchy tune
Marcia Ball
Watermelon time
Plain jazz.
Marco Benevento
It came from you
recommended
Classical trained pianist goes pop. Does that ring a bell?
The New Mastersounds
Thermal Bad
Funk. Boy. Live.
Go North
The Pauses
This was fun until it was adopted by Guitar Hero
Richard Barone
Glow
recommended
Poppish and highly predictable, but easy listening
Sarah Jaffe
Clementine
Uptempo folk/pop – predictable
Silje Nes
The Grass Harp
Norwegian folk. Good, for the appropriate occasion
Tracy Bonham
Big red heart
recommended
Good. Rock. Of. Course. From. Tracy.
Two Star Symphony
Goblin attack
Instrumental with cello/drums and violins. Good but too
long.
Vanaprasta
Healthy Geometry
recommended
Movie music.
Xylos
Daring Dearest
recommended
Excellent synthpop, vocals and production.