Summer Frame
PSP X - Intermediate Level

Supplies Needed:

Image of choice
Plugin: FM Tile Tools - Blend Emboss
Corners if desired



1 - Open your image and close the original.
2 - Set Foreground to a dark color from your image.
3 - Set Background to a light color from your image.
4 - Selections > Select All
5 - Effects > ED Effects > Cutout - see screen shot




6 - Keep selected.
7 - Repeat Cutout only changing the V&H to -3.
8 - Selections > Select none

9 - Image > Add Border - 25 px and flood fill with your light color - Keep Selected
10 - Effects > Geometric Effects > Spherize
Settings: Strength 100 and Shape - Ellipse
11 - Keep selected
12 - Effects > Plugin > FM Tile Tools > Blend Emboss
13 - Effects > 3D Effects > Inner Bevel -- see screenshot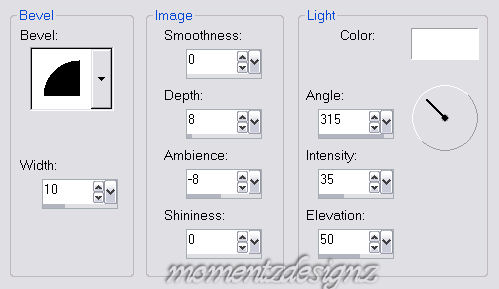 14 - Selections > Select None

15 - Image > Add Border - 45 px
16 - Select the border, flood fill with your light color and keep selected.
17 - In your Materials Palette, click on your dark color and to the right - click on Textures --- see screenshot




18 - Choose a texture you like that will enhance your frame.
Note: I tried most of them before I choose the Letters :o)
19 - Flood fill your selected border with your new texture and keep selected.
20 - Effects > Plugin > FM Tile Tools > Blend Emboss
21 - Selections > Select None

22 - Image > Add Border - 5 px and flood fill with your light color. Keep Selected.
23 - Apply the same Inner Bevel as we did in step #13
24 - Selections > Select None

25 - Add decorative corners if you wish.
26 - Add watermark, re-size and save as a jpg.




And we are finished. I hope you have enjoyed this tutorial *S*




Following is another Summer Frame done by Holly, a member of our FriendsNMore Group.
Thank you Holly, it is beautiful!






If you have any questions, please feel free to email me.

©momentzdesignz 1999
Back to Tutorials